Challenge
Provide an accessible, reliable, and innovative intermodal transportation network to residents in 25 municipalities in the Lorient urban community.
Improve the customer experience and reduce travel time, notably by optimizing infrastructure. 
Improve passenger information by updating existing systems, both digital and non-digital.  
 
52
city bus lines, 96 school bus lines, 4 high-frequency lines, 6 summer lines
23
DRT lines and a booking service dedicated to DRT and paratransit
5
regular maritime routes
Solution
Since January 1st, 2018, and for a six-year contractual term, RATP Dev has been operating and maintaining the Lorient Intercity Bus Station and the IziLo public transit network of the Lorient Metropolitan Area through its subsidiary RD Lorient Agglomération. Since January 1st, 2022, it has also been responsible for managing bicycle shelters throughout the greater urban area. 
The Izilo network caters to over 200,000 residents across 25 municipalities. There are 52 regular city-bus lines, 96 school bus lines and specific services including 5 regular maritimes lines, 4 high-frequency lines, 6 summer lines, 23  demand-responsive transport (DRT) lines and a booking service dedicated to DRT and paratransit for passengers with reduced mobility.
Since January 1st, 2022, RATP Dev is working with local authorities to progressively restructure the Lorient network, in an effort to improve the passenger experience. In order to offer a more regular service, with reduced journey times, RATP Dev has implemented better use of the Triskell infrastructure of dedicated bus lanes. 
In recent years, several initiatives have been taken to optimize the customer relationship, such as the revitalization of the customer agency, the launch of a new website, and improvements to the reliability of real-time information at bus stops and on board the vehicles.
Maritime lines are an asset in the region, quickly connecting municipalities from the bay to the Lorient city centre. A summer line rounds out the current network for trips to the sea or the Port-Louis citadel, which is highly appreciated by tourists!
The Lorient Metropolitan Area has chosen to undertake a total energy transition of its IziLo bus and boat network by opting for two types of fuel and vehicle sizes which will eventually include a fleet of approximately 19 hydrogen-powered buses, two hydrogen-powered boats, and 76 buses running on bioNGV. Between now and 2030, the goal is to decarbonize the entire land and maritime network and promote sustainable mobility. 
The Izilo network is also involved in local life and partners the Lorient Interceltic Festival, transporting festival goers day and night over ten days. An evening network of 14 lines runs throughout this renowned international celtic music festival!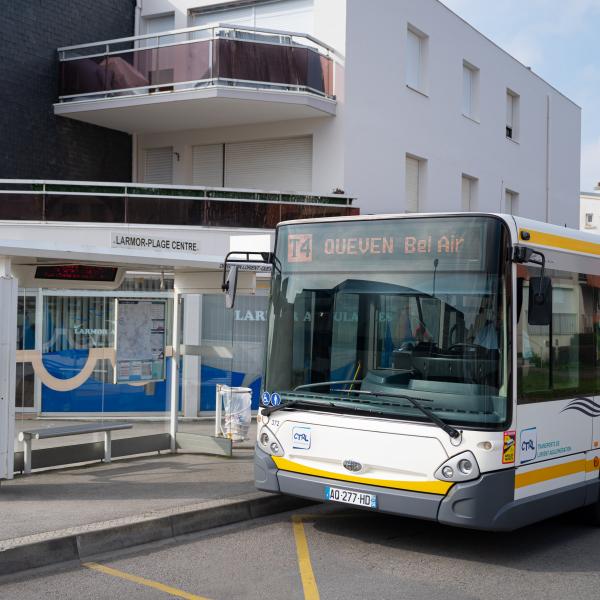 "Since 2018, we have been supporting the Lorient Metropolitan Area's stated goal for its citizens: a better quality network that aims to be environmentally exemplary, resolutely innovative, and of course one with service quality at the core of its concerns."