Challenge
Support the sustainable mobility policy desired by the Communauté d'Agglomération du Boulonnais.
Innovate by offering new products and services improving and facilitating inhabitants' mobility: long-term rental electric bicycle service, new regional ToD, etc.
Improve passenger information by modernising existing digital and physical tools
Participate in the life, reputation and appeal of the local region
15
regular routes, 2 shuttles serving the city-centre and the local markets, on-demand and paratransit services, a long-term rental offering for electric bicycles
Solution
The Communauté d'Agglomération du Boulonnais (CAB) covers 22 municipalities around the city of Boulogne-sur-Mer. To connect its 120,000 residents, the regional authority has developed the Marinéo network, comprising 4 main routes, 7 complementary, 4 local, coupled with school services, on-demand transportation and services for people with reduced mobility, more recently a long-term rental service for electric bikes.
Free shuttles cover the centre of Boulogne-sur-Mer and two lines running on market days allow residents to go shopping without using their cars.
Building strong relationships with the regional authority 
Since 2013, Marinéo has been operated by Companie des Transports du Boulonnais (CTB), a 100% subsidiary of RATP Dev. It implements the strategies defined by the regional authority and fulfils the role of technical consultant to accompany mobility projects of the territory with a long-term vision. In 2021 97.3% of surveyed passengers stated they were satisfied with the service.
Renewed confidence with the continuation of the public service delegation agreement that began on 1 May 2021 for a duration of 6 years and 8 months. 
Innovating to contribute to more sustainable mobility
In May 2017, BTC, in partnership with the City of Boulogne-sur-Mer and the Communauté d'agglomération du Boulonnais, tested an autonomous 100% electric shuttle with a capacity of 12 people and accessible to people with reduced mobility. This experiment was a great success and enabled us to gather passengers' opinions on this new service as well as their suggestions for improvements.
Communauté d'Agglomération du Boulonnais confirmed its commitment to sustainable mobility for all and facilitated access to public transport with its Marinéo network by developing new mobility offerings for everyone at the end of 2019: adults and minors travelling alone or with their families, going to school or work, etc. Tailored offerings for all passengers, each with his or her own ticket:
Free access on Sundays and public holidays
Free access for accompanied children up to 10 years of age with Pass'Margat
Reduction in the price of a 10-ticket book
New rates on Pass'Mois according to the family allowance
School card: updates in award criteria
CTB launched Marinéo in August 2020, a long-term electric bicycle rental service with a fleet of 40 bicycles. The long-term electric bike rental activity helps to promote simple and soft mobility travel around the Boulogne conurbation. This experiment won the VRT "Sustainable Mobility" prize in December 2020.
A new commercial dynamic 
For the renewal of its PSD agreement in May 2021, CTB has committed to modernising its image to make Marinéo, the go-to partner for the region, a brand that matters in the daily lives of people in and around Boulogne: Marinéo, making mobility easier for all.
The modernisation program means an overhaul of its visual identity in addition to a new commercial position. The CTB network is updating, optimising its offering and making its services digital: mobile app, new website and e-shop, personalised communication on social media, a stronger presence for the people living in and around Boulogne, etc.
The CTB, a day-to-day mobility partner for the area in and around Boulogne, is committed to boosting and enhancing its local presence through sport, education, solidarity, culture and entertainment and supporting local parties and partners.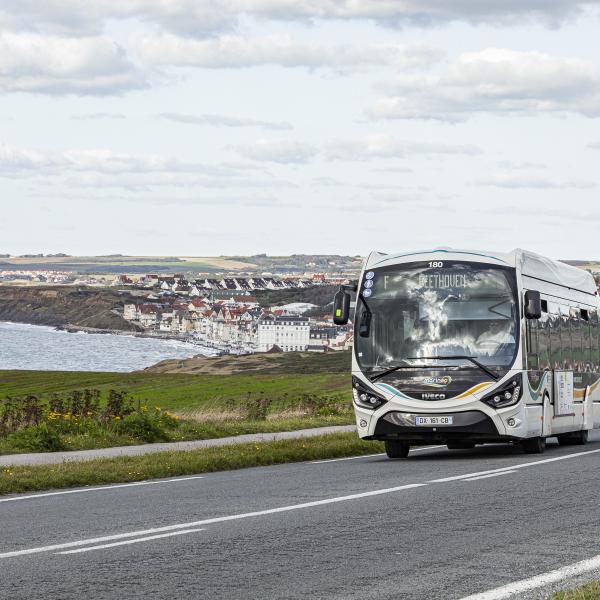 " Mobility for all, the use of environmentally-friendly modes of travel, cannot be condensed into a single measure. It is the wide range of targeted measures, coordinated in relation to the uses and needs of each inhabitant, that can offer a genuine alternative."
Frédéric Cuvillier
Communauté d'Agglomération du Boulonnais president, mayor of Boulogne-sur-Mer and former deputy minister of transport and the maritime economy